Critical's Premier Blue Eye Macro Guides: Volume I
"You could also call them a cheat sheet" - Critical
=============News Update: Friday, November 4th=================
I'm starting to get a few calls and offers for interviews and perhaps work, so unfortunately I'll have to put this guy on hold. It doesn't mean I'll forget about it, but somewhere down the line, I'll patch a few of my "helpful" posts and combine some examples of it onto the forums.
I sincerely apologize for this, users.
=============News Update: Wednesday, October 26th==============
While the project went underground (and delayed for some time. This guide required a peaceful setting to work on and some of those days were not peaceful.), I'm picking back up where I left off.
I'll still keep an eye over the forums, don't you worry. Quality over quantity I'd say.
=============News Update: Saturday, October 1st==============
WHAT IS THIS PROJECT ALL ABOUT?
I've seen the posts. You all want macros (and that's a given). My philosophy here is if you can create your own macro quicker than waiting for someone to make it (or possibly not in a very, very long time), then why not give you the tools you need to have a head-start on knowing how to fully utilize Blue Eye Macro in let's say, three days with the support of the forums.
The current guide I'm working on is
[Guide] Fresh off the Boat: Blue Eye Macro
, and man do I have a preview of what you're about to taste.
In each section, there will be color coded features that intuitively designate what the description means without even having to explain it to you along with precise instructions and visuals to go with it.
When more of the guide gets filled up, you in turn may be able to help me out on creating code exercises. A heads-up in the near future.
Enjoy the previews: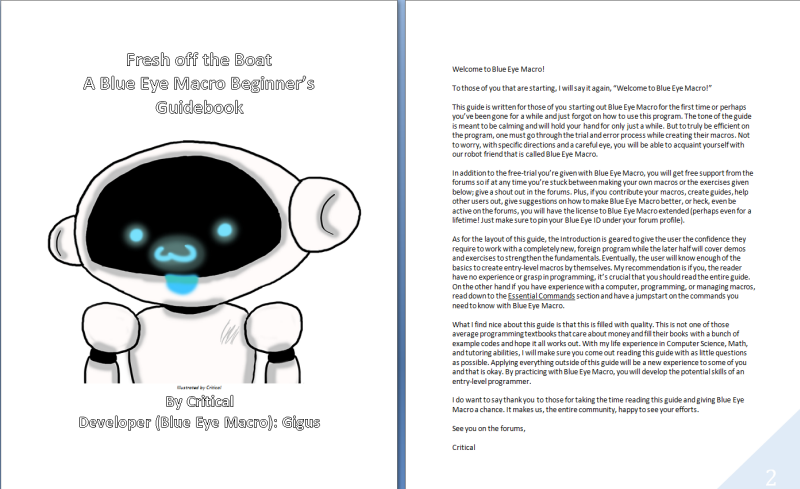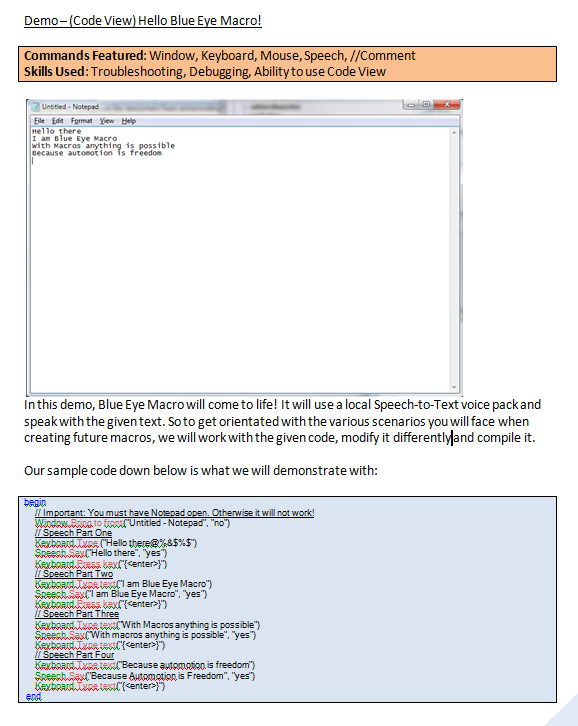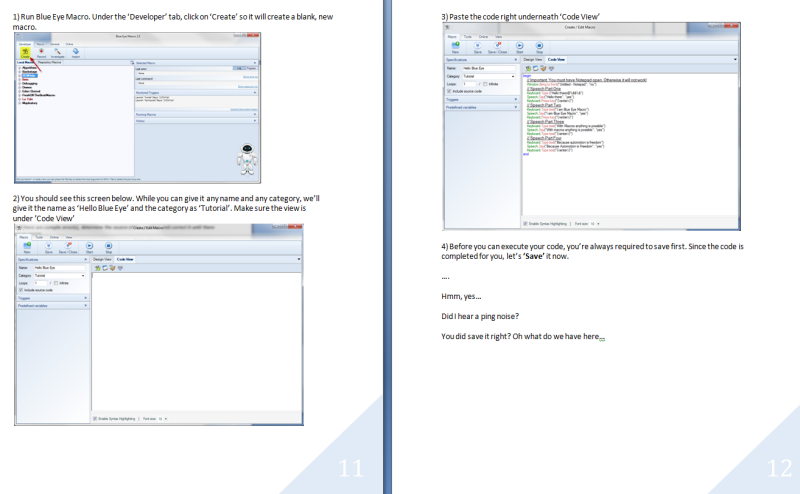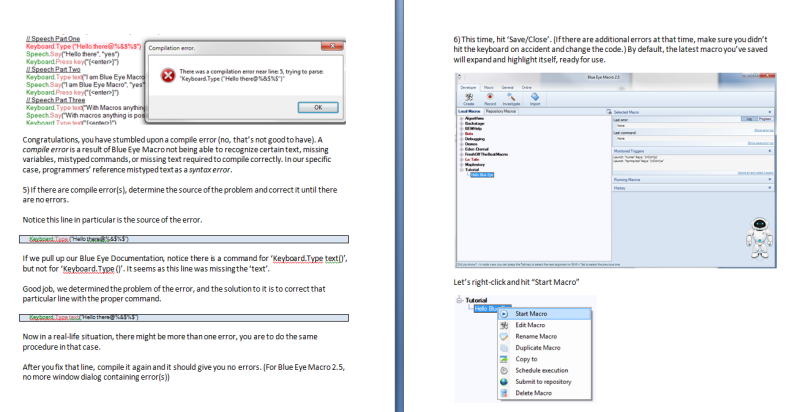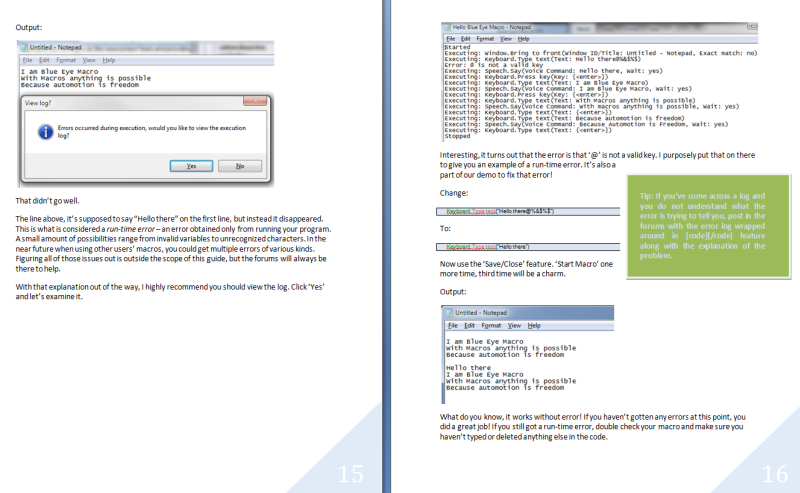 And in the near future, look at all these goodies on the cover page:
Keep checking back for more updates! The rest below is technical details:
=============End News==============
To-Do List General
Formulating a template that's vivid, colorful, simple, easy-to-follow [DONE]
Update this thread on implementing the features of the guide [DONE]
Creating a draft for Fresh off the Boat: Blue Eye Macro
Proof-Reading & Secondary Draft for Fresh off the Boat: Blue Eye Macro
Pre-Release of Fresh off the Boat: Blue Eye Macro
Finalization and Open for Everyone
[Progress] Fresh off the Boat: Blue Eye Macro
Idea and Template Phase.

This is personally the most critical part of the phase as this needs to be thought out carefully. The various colors used in textbooks and other sources do make an engaging read versus reading it all in one color. There will be pictures when the template is in working order.
Drafting
Update: Here's a prototype structure via Forums
here
while I was explaining this to a user in the Ask a Question board.
[Guide] Code Efficiency & Algorithm: Blue Eye Macro
Range of Audience: Intermediate to Advanced
Synopsis: Once the user is comfortable and able to churn out codes within their head, the alleged 'Post-BEM User' can go through various theories behind a more structured code, improved thinking process, and problem solving tactics that can be used in future coding.
Topics Covered [subject to change without warning]:
Opening: What is Code Efficiency?
What is an Algorithm? (by experience and opinion, mind you)
What people should look for in a general, ideal code.
Advantages & Disadvantages of various Code Implementation (Examples: When is it recommended to use Color.Wait for pixel pattern to appear vs. Color.Wait for color at coordinate to be (RGB)) [Comparing various codes and comparing from: Color, Image, Macro, Memory(Just brief, how to get actual Memory with Cheat Engine is beyond the scope of this guide), Variable, Window]
Algorithms involving Programming (Recursive with Macro.Execute repeatedly())
Algorithms involving Math (Math Formulas and Physics, applying it to Blue Eye Macro)
Demos Covered: Just Pseudo-Code
Personal Note: The Algorithms involving 'xxx' will contain a generic code for you to apply to your macro. It is your responsibility on when to apply them efficiently.
================
[Guide] I want to work for Video Games! (Macro/Bot usage in Video Game)
Range of Audience: Beginner to Intermediate
Synopsis: Exploring different methods and codes to implement in about any game you wish.
Topics Covered [subject to change without warning]:
Opening: Extending your Macros to become fully 'Automated'
What to look out for (from online games that have anti-bot protection, etc.)
Ideas behind an Ideal Gaming Code (Memory vs. Image vs. Color features, etc.)
General thought process to making a macro. What do you do? What do you ask yourself? What kind of game are we dealing with?
Closing: Gaming Tips
Demos Covered: ???
===============
[Guide] Fresh off the Boat: Blue Eye Macro
Range of Audience: Beginners with
NO
coding experience. Just as the title implies.
Synopsis: By honing in on the newcomers' fears and providing them a pleasant starting experience to the equivalent of one-on-one tutoring, the user will be able to have enough guidance to create their own macros.
Topics Covered [subject to change without warning]:
Opening: Blue Eye Macro. What's a Macro?
Pep Talk and the Road Ahead: What to Expect
Browsing the Blue Eye Macro Documentation and using the forums efficiency.
[Demo] Record Button: The easy way out
[Demo] To the Next Level: Writing your very first code!
Eliminate the fear seeing 'walls of codes' and turn it into your knowledge.
Closing: Friendly Advice to Beginners
Demo Explanation:
"Record Button"
Showcasing the use of the "Record Button" along with the drawbacks of using it.
"Hello Blue Eye Macro!"
Your very first code. Typing it all from scratch. No record button allowed folks! There will be multiple parts to this demo such as:
Using it on the Desktop
Using it on the Browser
Using it on a Flash Game (on a Simple Level, may be bumped up to the 'I want to work for Video Games!' guide as well)
Frequently Asked Questions
>That's quite a project you got there, when will you finish them?
With the scope of the forums, I see we will consistently have a lot of new users browsing here. I'll work on these in order of 'difficulty'. Therefore I'll make
[Guide] Fresh off the Boat: Blue Eye Macro
my starting point, working my way up to
[Guide] I want to work for Video Games! (Macro/Bot usage in Video Game)
and finally
[Guide] Code Efficiency & Algorithm: Blue Eye Macro
.
As for the time, I'd love to strive for quality so don't expect these to come out in 5-30 minutes unlike my post replies. For the first guide
[Guide] Fresh off the Boat: Blue Eye Macro
, I can foresee it going on for at least
three weeks
, definitely over that. I want this to be specific with plenty of screenshots. I am trying my best in the real world to obtain some 'funds' if you know what I mean.
My ideal aim here is to finish the entire first Volume before the Holidays.
[b]However, I prefer spending a lot more time on the first guide before making the others.
>What format it will be when it comes out?
I do love the sound of .pdf, but I'll be working a draft on Microsoft Word and hopefully have both .pdf and Microsoft Word versions available. Posting on the forums won't do.
Mind you, I'll post them one at a time instead of a bundle and would be under the General Section for Guides, that'll be easier for all of us now.
>This sounds good, I want it now!
Cheer me on, my friend. Leave a post and that'll be more than enough.
>I have an idea or something I'd like to discuss
Leave a post here or PM me.